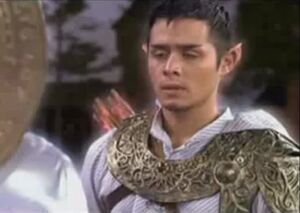 Bagno
is the chief of the Engkanto Kingdom warriors and is
Prinsesa Mirathea
's friend. Bagno has romantic feelings towards her friend and he is chosen to be Mira's groom by her mother,
Nerea
. However, his feelings aren't mutual considering the fact that Mira only considers him as her friend.
He was later framed up by Agor for opening the portal leading to the Tikbalang realm that caused troubles for the Kingdom.  Agor fixed evidences on Bagno's desk. Agor accused Bagno while Bagno turned the accusations to Agor. Agor later admitted that he was involved. Both of them were jailed while an investigation is going on. On a talk between Queen Nerea and Agor in the later's cell. Agor lied that he was only forced by Bagno to open the portal and said that when he heared "Peru-ha" from Bagno's lips Agor may have thought that Peru-ha may have poisoned Bagno's mind. Queen Nerea is reluctant to place a sentence on Bagno, despite the fact that the other Engkantos are convinced that Bagno did the crime. Mirathea and Liway do not believe the accusations either. 
He was sentenced guilty for the crime and was exiled to the farthest part of the Engkanto Kingdom. But as the time progresses, Agor was revealed to be the real enemy and the reason behind the opening of the portal. He was instantly released from imprisonment and proved his loyalty to the engkanto kingdom.